It is D-Sub15 pin (mini) cable connecting display to PC having a certain RGB analog input/output conventionally. It is connectable in display and projector having PC and input terminal having analog output terminal of D-Sub15 pin (mini) connector.
D-Sub15 pin (mini) male - D-Sub15 pin (mini) male
VGA extender
VGA extender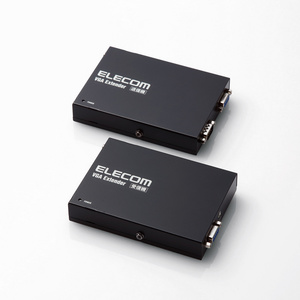 VEX-VGA3001S
VGA extender
With local output capability which can identify Video, Audio with display at hand. VGA extender which can transmit Video of the VGA output and analog Audio to up to 300m with one LAN cable.
Input terminal: D-sub15pin (mini) X 1/ output terminal: D-sub15pin (mini) X 1/ Lines output port: RJ45 X 1
Output terminal: D-sub15pin (mini) X 1/ Lines input port: RJ45 X 1