USB3.0 hub (with 4 port magnets)
U3H-T410SWH
Model number / lineup
Model number /JANCD
Features
Standard price
Remarks
U3H-T410SBK
4953103446519

< Black >

7,620 yen (tax-excluded)

U3H-T410SWH
4953103446526

< White >

7,620 yen (tax-excluded)
Features of product
USB hub corresponding to USB3.0
It is USB hub corresponding to USB3.0 realizing transfer speed 5Gbps and transfer rate (theoretical value) of approximately 10 times of conventional USB 2.0.
USB2.0/1.1 correspondence
As we can use in USB2.0/1.1, even PC, apparatus for USB2.0/1.1 is just connectable.
Transfer high-speed by a large quantity of data
If it is PC, apparatus for USB3.0, we can transfer a large quantity of data fast, too.
With magnet
We are equipped with neodymium magnet on the back of the body and can fix on the sides such as steel desks well.
Self-powered Bus powered type for common use
It is Self-powered Bus powered common use type that AC Adapter is attached to.
AC Adapter attachment
When we use big portableness hard disk drives of power consumption by connecting attached AC Adapter, and using in Self-powered mode, was stable, supplying power is possible.
It is equipped with four Universal Serial Bus ports
In addition to 3 ports of the front desk, we equip side with 1 port and are convenient to connect wide USB apparatus.
Cable long 1m
Cable is cable length 1m which we can connect by direct-attached type that we do not have to worry about loss relaxedly
With Cord keeper
There is Cord keeper that favorite length can regulate the cable head.
Specifications of product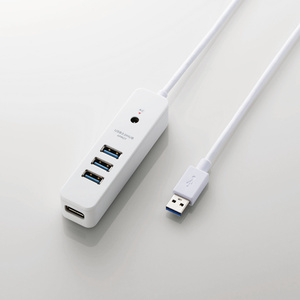 U3H-T410SWH
| | |
| --- | --- |
| Interface: | USB3.0 (it is compatible with USB 2.0 and is compatible with USB1.1 at the time of movement, USB1.1 interface connection and, at the time of USB 2.0 interface connection, works) |
| Connector type: | The PC side (Upstream Port): USB(A)male x1, the USB apparatus side (Downstream Port): USB(A)female x4 |
| Supported OS | Windows 8.1, 8, 7(SP1), Vista (SP2)/ Mac OS X 10.6 - 10.6.8/OS X 10.7 - 10.7.5, 10.8 - 10.8.3, 10.9, 10.10 |
| Maximum transfer speed | USB3.0 supermarket speed /5Gbps (theoretical value), USB 2.0 High Speed /480Mbps (theoretical value), USB1.1 full speed 12Mbps (theoretical value) |
| The number of the up stream (the PC side) ports | 1: |
| The number of the down stream (the peripheral device side) ports | 4 |
| USB cable method | USB3.0 |
| The USB cable head | About 1,0m (except connector) |
| Power supply method | Self-powered |
| Can supply; electric current | USB3.0 connection Self-powered time: Total 4 ports less than 3,600mA (less than each port 900mA) Bus powered time: Total 4 ports less than 720mA (less than each port 180mA) |
| The DC cable head (AC adapter) | Approximately 90cm (except connector) |
| Color: | < White > |
| Dimensions: | About width 107.5 X depth 26.5 X 24.0mm in height (except cable) |
| Weight | Approximately 86 g |
| Operating environment | Temperature 5-40 degrees Celsius, humidity 30-80% (thing without dew condensation) |
| Accessories: | Exclusive AC adapter, Cord keeper |
| Available area | As This product assumes power supply in Japan and is designed, it is not available out of Japan. |
| The electrical equipment security method | PSE conformity (AC adapter) |
| Term of a guarantee | Six months |
※The latest correspondence information of this product is this.
※ Specifications may change without a notice, thank you for your understanding.