*sokukoritsuka mouse pad for Excel (XL Dimensions)
MP-SCBGE
"*sokukoritsuka mouse pad" which is full of shortcut key which is usable to convenient thing when speed of work improves in shortcut key and knows from basic thing for Excel
Model number / lineup
Model number /JANCD
Features
Standard price
Remarks
MP-SCBGE
4953103331761

1,750 yen (tax-excluded)
Features of product
It is full of usable shortcut keys
We print 64 kinds of convenient shortcut key at the time of use of Excel.
Mouse slips
We take specially processing on the surface and realize a feeling of outstanding operation slipping quickly.
It is ultrathin and is easy to use
As it is super ultrathin thickness 0.3mm, it is operational comfortably without feeling difference in grade with desk.
The slight adhesion that it is easy to use
We just adhere to desk using slight adhesion seat superior in re-fissility on the back side and are hard to be and are not sticky after having torn off either. We stick on note PCs, and carrying around is possible, too.
It supports all mouse
It supports Laser system mouse, optical mouse, ball-type mouse.
We use eco-friendly olefin-based material
We use eco-friendly olefin-based material which harmful hydrogen chloride gas does not produce at the time of destruction by fire.
It is easy to use at size 1.5 times
It is large Dimensions which it is easy to read character and is easy to operate.
※Our Other conventional products MP-112 series area ratio 1.5 times
Specifications of product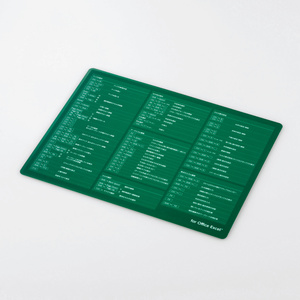 MP-SCBGE
"*sokukoritsuka mouse pad" which is full of shortcut key which is usable to convenient thing when speed of work improves in shortcut key and knows from basic thing for Excel
| | |
| --- | --- |
| Dimensions | Width 230 X D 180 X thickness 0.3mm |
| Materials: | front surface: The polyester back side: Olefin-based seat |
| Color: | < Green > |
| Shape, pattern | With usable shortcut key list of Office Excel |
| Antibacterially process | ○ |
※ Specifications may change without a notice, thank you for your understanding.