Bluetooth (R) USB adapter (Class2)
LBT-UAN05C2
BluetoothVer.4.0USB host adapter for BluetoothLowEnergy
Model number / lineup
Model number /JANCD
Features
Standard price
Remarks
LBT-UAN05C2
4953103375840

Class2 correspondence

Open price
Features of product
Stack "Bluesoleil" made in tip adoption IVT company made by CSR Ltd. adoption
We adopt stack "BlueSoleil" made in tip +IVT company made by reliable CSR Ltd.
Bluetooth® protocol stack "BlueSoleil" which "IVT" company developed is Bluetooth® software of world TOP class carried to more than 20000000 products more than 150 adoption.
We cope to Bluetooth®v2.1/ 3.0/ 4.0 and the latest Specifications, and profile is substantial, too.
Bluetooth®4.0-adaptive communication possibility distance is maximum; "a radius of 10m" (theoretical value)
Between various Bluetooth® deployment apparatuses, we realize wireless connection by being connected to PC of the Bluetooth non-deployment. As it is adapter which realized low power at small / light weight, we do not choose use place. Output class of Bluetooth® supports "Class2".
We can communicate, and distance is available for wireless connection at "a radius of 10m" at the maximum. (distance is theoretical value.)
We correspond to Supported Profiles industry most (the February, 2014 we investigation) large number of profile!
It is equipped with profiles more than double putting on Windows by stack adoption made in IVT company as standard equipment ※We are doing.
We realize wide wireless connection environment that started from PC by connecting This product to PC of the Bluetooth® non-deployment.

Have access to dial up on the Internet through Bluetooth®-adaptive cell-phone; high-speed packet transmission
It is transferred schedule book and telephone book between Bluetooth®-adaptive cell-phone and PDA and PC
Image is transferred to PC by Bluetooth®-adaptive cell-phone
Communicate with Bluetooth® headset; and use on Skype
It is wireless with input devices such as mouse or keyboard
It is wireless by the output to printer
In addition, it is equipped with A2DP receiver function to make your PC available as iPhone and speaker of smartphone by driver attached to This product.
In addition, operation such as reproduction, music forwarding, stop of Supported Devices is possible from the PC side as we support AVRCP.
Because is small size, light weight; very small Dimensions of "approximately 2.0 g" most suitable for mobile PC
When we connect to mobile PC when we attach to PC as not only there is little jumping out, but also is low power and carry, it is convenient.
In addition, you can use Bluetooth®4.0 for electric power saving called Bluetooth®Low Energy in peace in Mobile environment as you realize power consumption cut of up to 60% in This product in standard with Features.
Specifications of product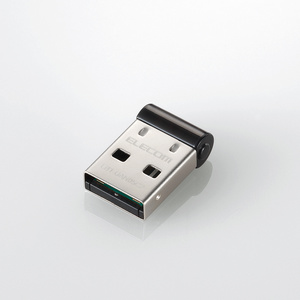 LBT-UAN05C2
BluetoothVer.4.0USB host adapter for BluetoothLowEnergy
| | |
| --- | --- |
| Supported devices: | Apparatus to Bluetooth 1.2-3.0 and Bluetooth apparatus for Ver.4.0/LE |
| Supported PCs (USB adapter) | PC which Windows to support works, and has USB 2.0 port by default |
| The correspondence OS (USB adapter) | Each Windows 10(32bit/64bit) edition, each Windows 8/8.1(32bit/64bit) edition, each Windows 7 (32/64bit) edition, each Windows Vista (32/64bit) edition |
| Bluetooth performance | Bluetooth Ver.4.0 Dual mode(EDR and LE correspondence) Class 2 |
| Radido frequency | 2.4000-2.4835GHz |
| Frequency Modulation | FHSS |
| Communication Range | Connection with Class 2 up to 10m (theoretical value) Class 2 apparatus: Recommended up to 5m (we may shorten by ※ use environment) |
| Supported Profiles | AVRCP/A2DP(Sink)/A2DP(Source)/ANP/BIP/BLP/DI/DUN/FAX/FMP/FTP/GAVDP/GLP/HCRP/HFP/HID/HOGP/HRP/HSP/HTP/OPP/PAN/PASP/PXP/ScPP/SPP/TIP |
| Connector type: | USB type A |
| Housing materials (color) | < Black > |
| Input Voltage | 5V (we feed from Universal Serial Bus port) |
| Dimensions (width X D X H) | 19.0mm *12.8mm *6.1mm |
| Weight : | Approximately 2 g |
| Term of a guarantee | One year |
| Laws and ordinances correspondence | TELEC |
| Accessories: | Manual (guarantee memo) |
※The latest correspondence information of this product is this.
※ Specifications may change without a notice, thank you for your understanding.